I think as parents it is our jobs to have a discussions with our kids about money, and how to be responsible with it. We have started teaching my oldest daughter about money and i really love the idea of the PASS. The
American Express PASS
gives you the freedom to allow your kids to be responsible while teaching invaluable lessons about money. PASS is prepaid, so teens can only spend what's preloaded on the Card. There is no risk of overdraft fees for your teen and PASS can't impact your teen's credit. Their website is loaded with information on how it all works and the benefits.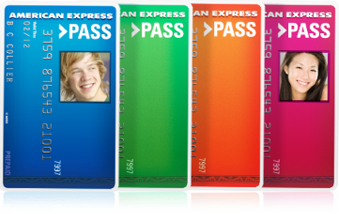 The PASS CARD:
PASS is a prepaid reloadable Card parents give to teens or young adults.
Parents load PASS with funds through an American Express Charge or Credit Card or through a bank, such
as a checking or savings account.
PASS is a better and safer form of currency than cash, credit, or debit. Teens don't have to carry large amounts of cash, and if lost or stolen, funds can be replaced.Unlike credit, this is a prepaid card so there's no risk of overspending.
An adult, 18 years or older, must register and load PASS online at www.americanexpress.com/pass, after
verifying the user is 13 years or older.
PASS can be used virtually anywhere that accepts American Express.
Online Account Management:
Online management tools provide control and full transparency into how the Card is being used. Parents can
view real-time transaction history and monitor spending, receive email alerts about low funds or notifications
when a transaction has occurred, disable/enable ATM access, inquire about Card balance 24 hours a day/7
days a week, schedule reload of funds automatically, and load funds for teen's immediate access, with loading
up to $2,500.
Teens and young adults can manage their account online, view real-time transaction history, and set up text
alerts to receive balance and transaction information.
Benefits and Fees:
PASS has a monthly membership fee of $3.95 per month, waived through October 1, 2011.
There are no fees for image upload, activation, reload, balance inquiries, alerts or Card replacement.
The funds on the Card never expire.
Parents can disable/enable ATM cash withdrawals. A fee of $1.50 applies for each withdrawal.
The monthly membership fee entitles Cardmembers to valuable protections and benefits including:
Roadside Assistance which provides dispatch services including towing, battery recharge, gas delivery,
locksmith service and changing a flat tire. Purchase Protection against accidental damage or theft of eligible items for 90 days up to $1,000.To help teens learn about budgeting and saving, PASS has partnered with Junior Achievement, the world's largest financial literacy organization.
"I wrote this review while participating in a blog tour campaign by Mom Central Consulting on behalf of American Express and received a gift code to thank me for taking the time to participate."
I hope you enjoyed this post! Never miss a post-Subscribe by Reader or Email!
Smart and Trendy Moms finds products, ideas, projects, recipes, and other information that we have personally found helpful or interesting. As always, it is up to you to determine what is appropriate for you, your children, and your situation. See our Disclosure