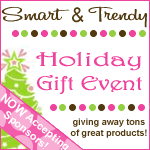 The Holiday Gift Event is in the works! With the giveaways of our Spring Blog Carnival being such a success, we are super excited to be planning a Holiday Gift Event! It's just about that time of year to discover those perfect gifts for everyone on your list. And since this is shaping up to be a great event, you might even WIN something for someone special on your list, or maybe even for yourself. I always make sure to leave room in my budget for something to treat myself with. The Holidays can be a stressful time of year!) As usual we will have our early bird entries, so make sure you are looking for that for EVEN MORE chances to win.
We are currently accepting sponsors so if your company is interested in sponsoring a product, feel free to contact us at jennette@smartandtrendymoms.com.
I hope you enjoyed this post! Never miss a post-Subscribe by Reader or Email!
Smart and Trendy Moms finds products, ideas, projects, recipes, and other information that we have personally found helpful or interesting. As always, it is up to you to determine what is appropriate for you, your children, and your situation. See our Disclosure